CONSUMER PRODUCTS
AND DC ENTERTAINMENT TO LAUNCH
THE HERO CHOICE CAMPAIGN
Taipei, Taiwan, February 26, 2016 – As two legendary DC Comics Super Heroes come face-to-face on the big screen for the first time, Warner Bros. Consumer Products (WBCP) has teamed up with a powerhouse slate of global licensees for a broad, multi-category licensing, merchandising and promotional program to support the highly anticipated action adventure film Batman v Superman: Dawn of Justice, directed by Zack Snyder, soaring into theaters on March 25.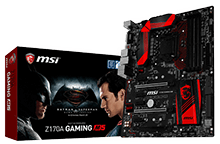 Revving up for Batman v Superman: MSI, world leader in gaming hardware design, is pleased to announce an exciting partnership to launch a limited edition of gaming motherboard and graphics card in conjunction with the highly anticipated film. To celebrate this partnership in selected countries (Taiwan, China, Thailand and Philippines), MSI will introduce a special edition motherboard and graphics card. These hardware will be good for MSI Z170A GAMING M5 and MSI Z170A GAMING PRO CARBON motherboards and GTX 970 GAMING 4G, GTX 960 GAMING 4G and GTX 960 GAMING 2G graphics cards.
"As the most iconic Super Heroes come together for the first time ever on the big screen in Batman v Superman: Dawn of Justice, we are thrilled to be partnering with MSI to embark on this unique collaboration across several key markets to support the film," said Ms Bianca Lee, Managing Director, Greater China, Southeast Asia and India, WBCP.
"We are proud to partner with WBCP and believe this integration is a perfect fit for PC gaming enthusiasts," said Ted Hung, MSI Vice President at Motherboard Department. Our announcement today represents the latest significant step of MSI brand equity in the gaming community."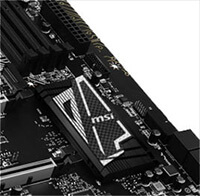 Z170A GAMING M5
Made for enthusiast gamers whose main goal is to master their favorite game. The Z170A GAMING M5 motherboard is designed to provide gamers the finest gaming experience through genuine GAMING design with heavy plated heatsinks and unique MSI PCB architecture, best-in-class gaming features in terms of speed, sound, stability, and the latest cutting edge technology. Defining features of the MSI Z170 Enthusiast GAMING series motherboards: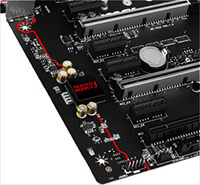 Z170A GAMING PRO CARBON EDITION
Like the ultra tech Bat suit, the Z170A GAMING PRO CARBON Edition motherboard full black color scheme is sure to offer outstanding performance and customization of your system Experience superfast online gaming with MSI GAMING LAN powered Intel. Enjoy crystal-clear immersive in game sounds from the premium quality components of Audio Boost 3.
Load your games in the blink of an eye with blazing fast Turbo M.2 data transfer speeds up to 32Gb/s. Steel Armor ensures the most heavyweight graphics card setups are solid and stable. Engineered to provide both a stunning gaming and visual experience, the Z170A GAMING PRO CARBON Edition sporting the latest version of Mystic Light gives you plenty of reasons to show off.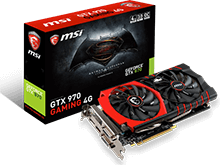 GTX 970 GAMING 4G
The best-selling MSI graphics card with more than enough punch to enjoy the latest games in all their splendor. With the powerful NVIDIA Maxwell GPU at its heart and 4GB of GDDR5 memory, the GTX 970 GAMING 4G was one of the first cards to come equipped with the famous Twin Frozr V thermal design, which provides a cool and silent gaming experience.
GTX 960 GAMING 2G/4G
The GTX 960 GAMING models combine great power with efficiency at an attractive price. Perfect for playing the most popular MOBA games, they also run the latest triple A titles at modest settings. Also equipped with the famous Twin Frozr V thermal design, your gaming rig will remain supremely silent, letting you focus on the game. All MSI GAMING graphics cards use Military Class IV components, which means improved durability, stability and efficiency. Military Class IV components also enable better overclocking results when using MSI Afterburner, which means more performance in games.